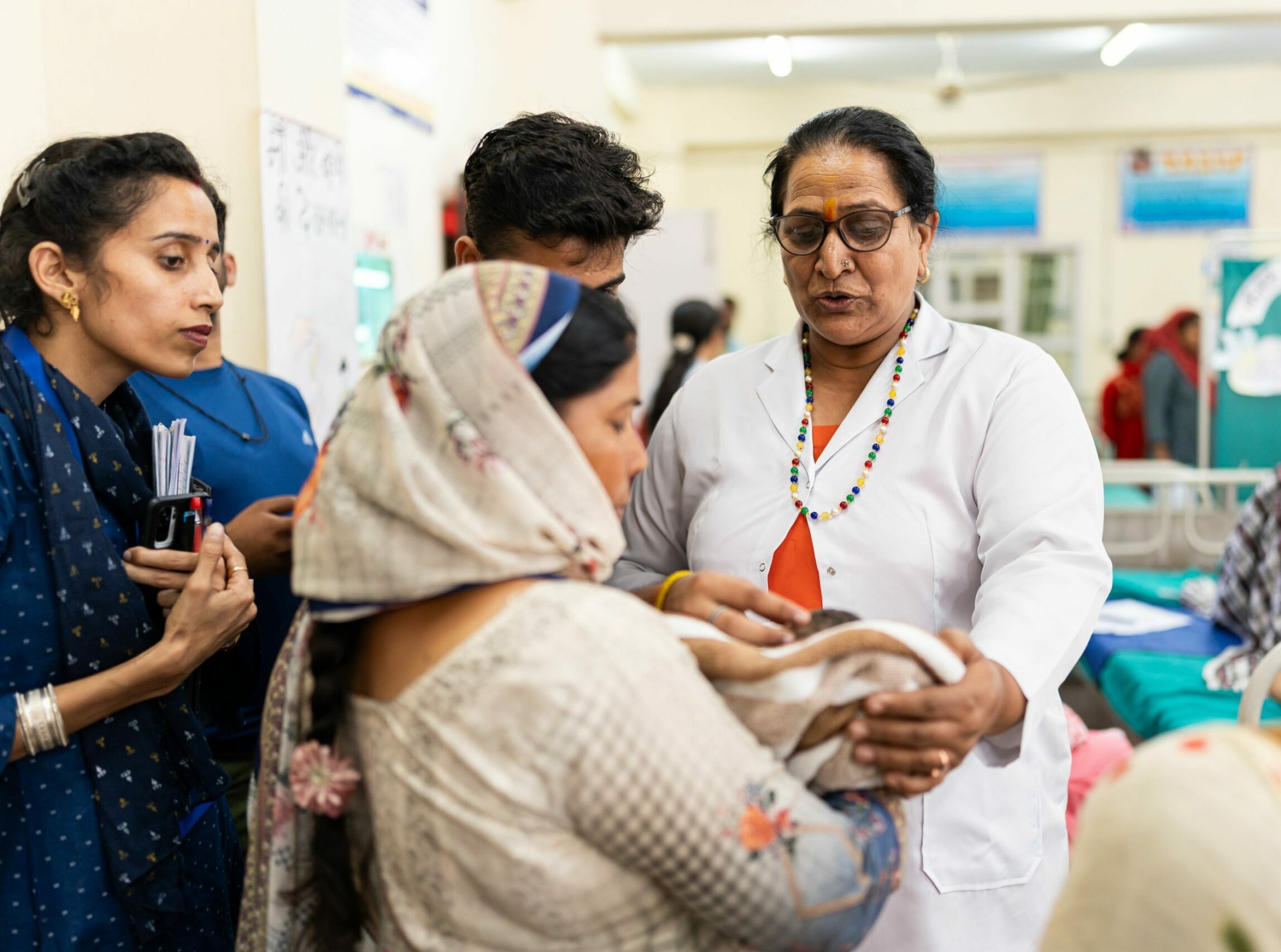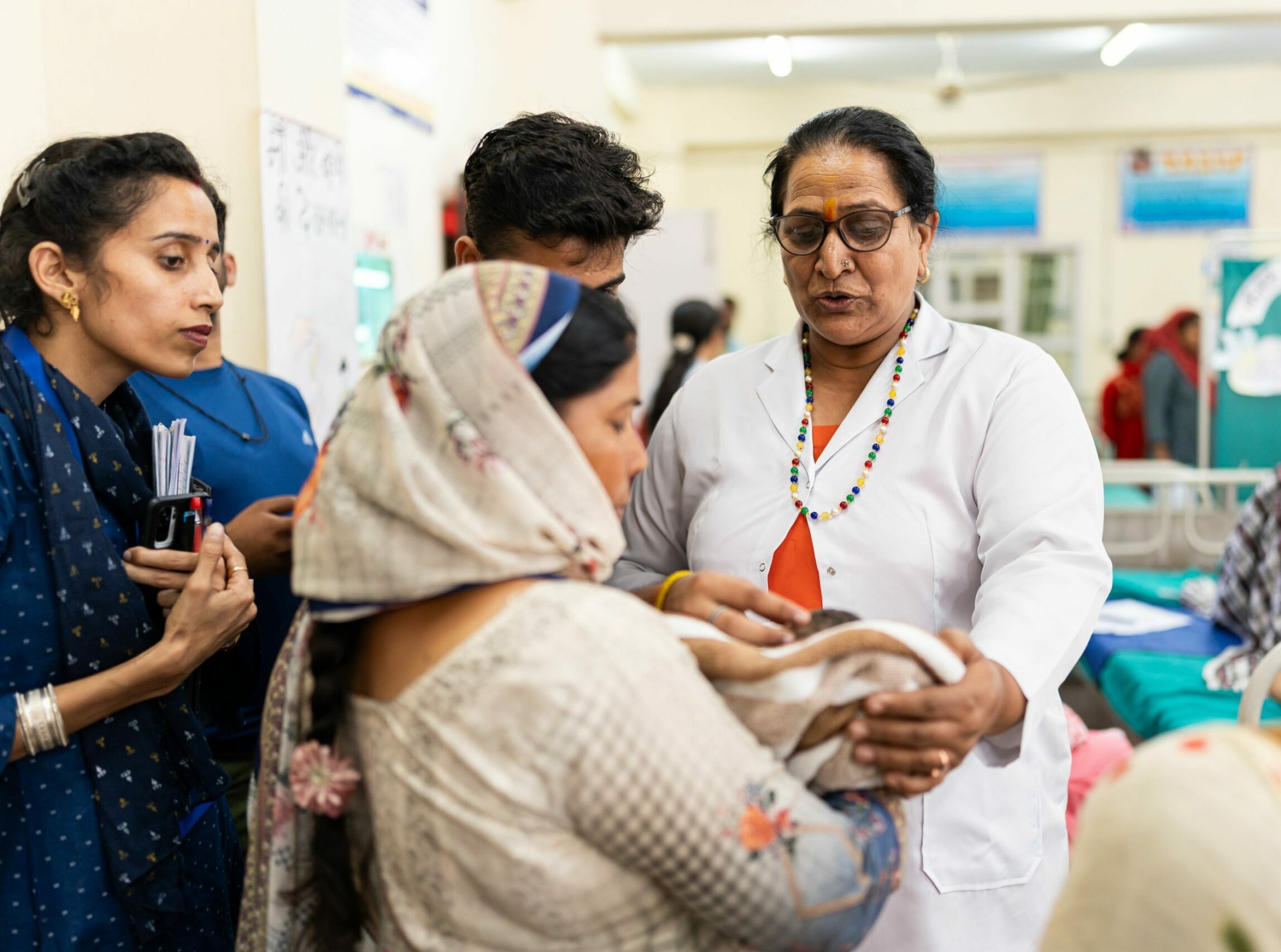 Dr. Shahed Alam
|
Dr. Seema Murthy
September 18, 2023
Why trust in healthcare matters — and what we can do to build it
Back to The Companion
While working to improve maternal and child health in India, we have seen an interesting trend emerge. Often, expecting mothers will have their delivery at a free public hospital, but choose to pay for their antenatal check-ups at a more expensive private hospital. When asked the reason behind this, they're likely to say something along the lines of, "Woh humara zayaada khyal rakhte hain. They [private hospitals] take more care of us."
Across the country, we've observed a perception that the private system provides better quality care, and this can erode trust in the public healthcare system. While there is no clear consensus on whether trust has declined over time or if it was never there to begin with, what we do know is that in the 21st century, the social, economic, and cultural context in which healthcare provision is happening has changed dramatically. Given the multiple sources of conflicting information, politicization of health science, the increasing commercialization of private healthcare, and chronic underfunding of public healthcare, it's no surprise that people's trust in the public system isn't very high. 
In the run up to the 78th United Nations General Assembly this week, we found ourselves reflecting on its theme of rebuilding trust and reigniting global solidarity in the context of healthcare, and the responsibility of social impact organizations such as ours.  
Why is trust in healthcare important?
At its most basic, trust is a strong belief in the integrity, strength, or ability of someone or something. In the context of healthcare, it can be understood as a patient's confidence that a health provider will help them achieve a particular health outcome without deliberately harming them. Given the information asymmetry that exists between care providers and seekers, trust between the two plays an important role in bridging the gap. It allows people to recognize their own vulnerability and acknowledge that despite the power imbalance, the person (or institution) in front of them respects them and has their best interest at heart.
This makes trust an important — yet often invisible — part of medical diagnosis, treatment, and healing. It determines how and when patients seek care, and their willingness to reveal sensitive information and follow treatment plans. In short, it is the glue that holds the healthcare journey together.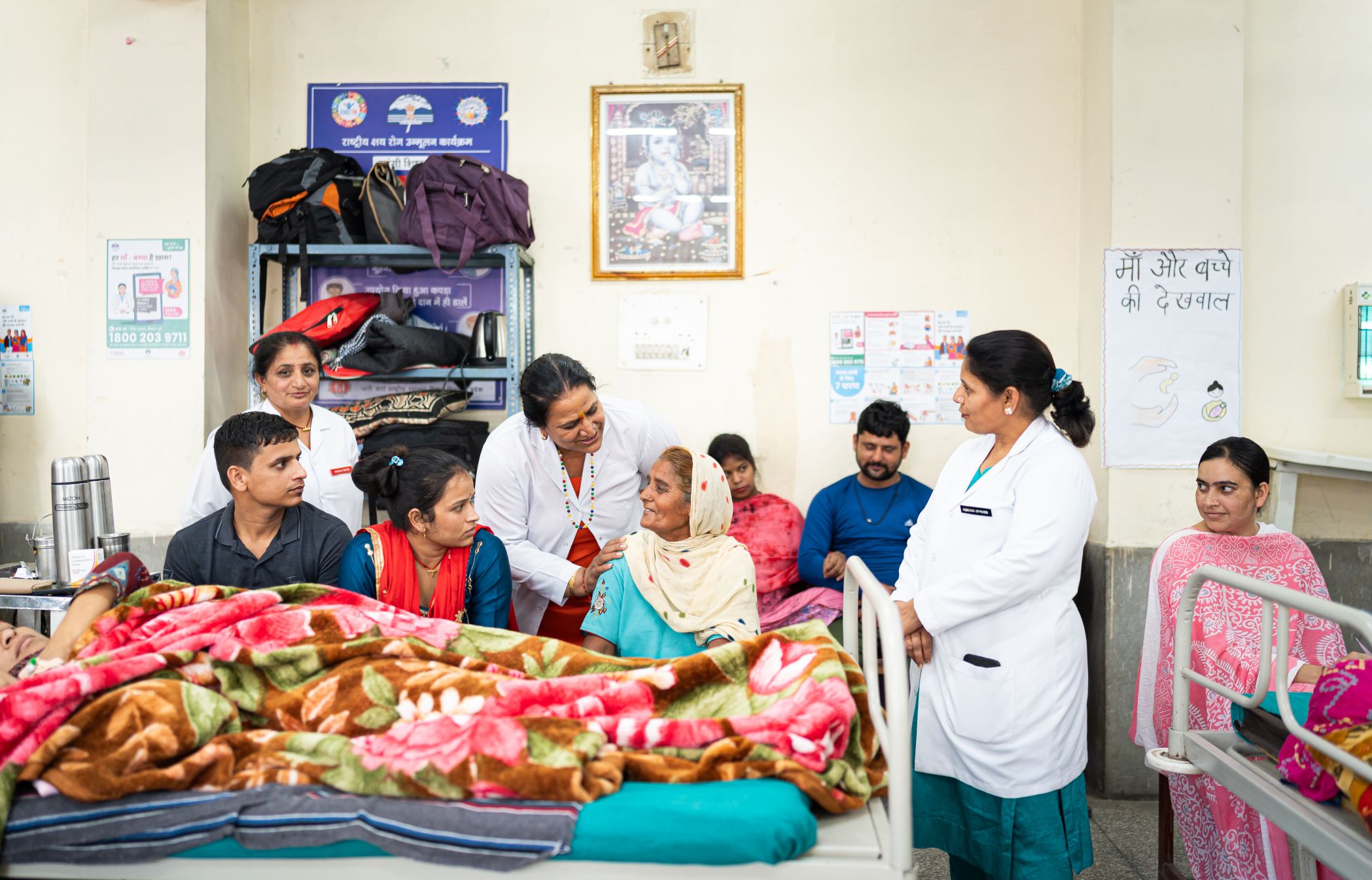 In the absence of public trust, health outcomes suffer — people either don't access care at all, take care into their own hands, or look at alternative sources of healthcare. The pandemic offered a stark example of what happens when trust breaks down between provider and patient. People didn't believe key medical advice — such as the importance of vaccines or masks — due to a lack of trust in the healthcare ecosystem.
Beyond affecting health outcomes, seeking care in private facilities also increases out-of-pocket expenditures. For low-income families, even a single health event can drive families into cycles of debt and poverty. By not focusing on trust, we're missing one of the most cost-effective ways for us to improve health outcomes.
Trust is not a given; it has to be earned
Research shows that patient-centered care, shared decision making, interpersonal skills, communication skills, and improving health literacy are some of the key ways for healthcare providers to earn patients' trust. 
This echoes what we've seen in Noora Health's near-decade of experience working closely with health systems and patients: Trust in healthcare usually boils down to the connection and communication with the person sitting across from them. Connection and communication here include many things — from engaging with honesty, empathy, and mutual respect, to the ability to speak the same language and listen actively. 
Typically, in resource-strapped public healthcare systems, this connection is often the first thing to go.
In fact, research shows that patients might choose informal healthcare providers — despite knowing that they're not the most medically competent — precisely because of the sense of interpersonal trust, friendliness, and familiarity they provide. For patients, these factors often function as proxies for the efficiency and quality of care, since they are the most visible aspects of health services. Private providers and informal healthcare practitioners flourish in large part due to this unaddressed gap within the public system. 
So how do we ensure that patients and their caregivers get the time, attention, and respect they deserve? At Noora Health, we have been working to correct the power imbalance in our global healthcare system where those who care most for patients — their loved ones — are left out of patient healing. We do this by providing access to caregiver support and training, essentially, bridging the information gap between providers and caregivers. By leveraging the immense scale of public healthcare systems, we have seen increased health behavior adoption, reduced anxiety for family caregivers, higher levels of patient and caregiver satisfaction, and powerful improvements in health outcomes for patients across medical condition areas. 
But beyond tangible improvements in health outcomes, we're starting to see how opening up a formal and effective channel of communication and information exchange between healthcare workers and patients has had the positive knock-on effect of strengthening trust between the two. 
Over the years, there have been multiple instances of patients coming up to us and telling us that Noora Health's Care Companion Program (CCP) sessions made them feel respected. Reflecting on a CCP session during a home visit in Bangady, a village in Dakshina Kannada district, Karnataka, one caregiver shared, "Leaving aside all the training we received, the CCP session was the first time I felt respected in a hospital. Somebody took the time and effort to not only give me information, but also ask me: What are your challenges? What are your doubts? I really felt heard and like I mattered."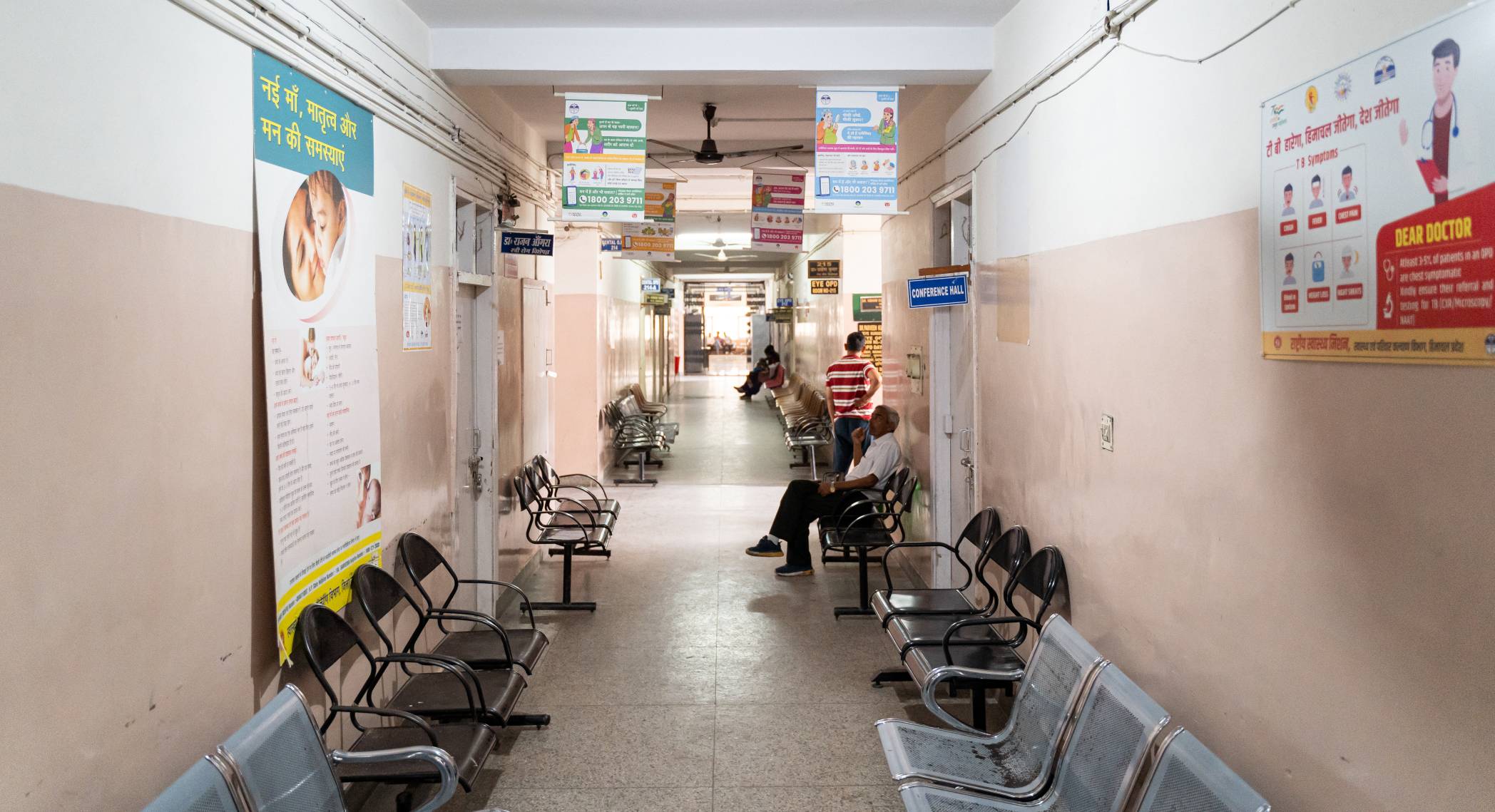 Similarly, we're also seeing that because of the information and high quality of care provided by the CCP, people are referring other patients to public facilities, or themselves choosing to return — as in the case of expecting mothers who would have otherwise gone to private care providers. In India, this is an especially important marker of trust, since people often decide where to access healthcare after consulting their friends and family. 
Nurses from both Maharashtra and Madhya Pradesh have also shared with us that the relationship between healthcare providers and patients has improved after the CCP sessions started and instances of aggression and violence towards them have come down. 
Taken together, these are powerful proxy indicators of growing trust. Creating channels for honest, respectful, and meaningful communication can help set off a positive feedback loop: If the nurses trust the patients more, they provide better care both during and outside the CCP, which then builds trust with the patients. Patients start to trust both the individuals and institutions more, strengthening the system at every turn. 
Redefining and prioritizing trust
One of the problems with talking about trust in healthcare is that it's very hard to measure. While we're encouraged to see emerging evidence of the CCP shifting people back to the public health system, more research is needed to understand these dynamics better.  
As organizations that support health systems, we need to take the lead on looking beyond easily measurable health outcomes and start understanding trust in all its complexity.
This means collaborating with patients, nurses, public health professionals, and other health system stakeholders to look for ways to measure it as part of our routine work, report on it, understand ways to restore it, and use these insights to make trust a core element of our program work. 
Alongside building trust between communities and the system, we also need to focus on broadening our understanding of trust in healthcare to include not just patients' perspectives, but also those of medical professionals. As part of our recently-concluded study on healthcare worker motivation, nurses shared the challenges they face and how building a trusting relationship with patients, peers, and the healthcare system can support their work as a whole.
At its core, care is collaborative — doctors, nurses, patients, and caregivers are working towards the same goal. Without the intentional cultivation of reciprocal trust, empathy, and respect between these stakeholders, equity in healthcare will remain an elusive goal. 
We're grateful for the opportunity to play a small part in making this a reality through our newly-announced Commitment to Action at the Clinton Global Initiative during UNGA week in New York, building on our work with visionary state and national governments to advance family caregiver support and training globally.
Subscribe to The Companion